Jacket "Aviator" - black
If you are not 100% sure about your size, we recommend choosing a size larger than you usually wear! 
Military style jacket with quilted, insulated lining, made of waterproof material, finished with wide cuffs. On the left sleeve, there is a pocket with a zipper and a red OFFENSIVE tag. A large, sliding pocket at the front of the jacket and two smaller pockets with velcro closure. On the chest there is an embroidered Velcro patch with the Dobermans Aggressive logo.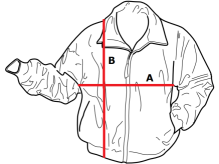 | ---- | M | L | XL | XXL | XXXL |
| --- | --- | --- | --- | --- | --- |
| A | 110 | 114 | 120 | 125 | 130 |
| B | 68 | 71 | 72 | 74 | 76 |